Real Recruitment Results: Talent Recruiting Partners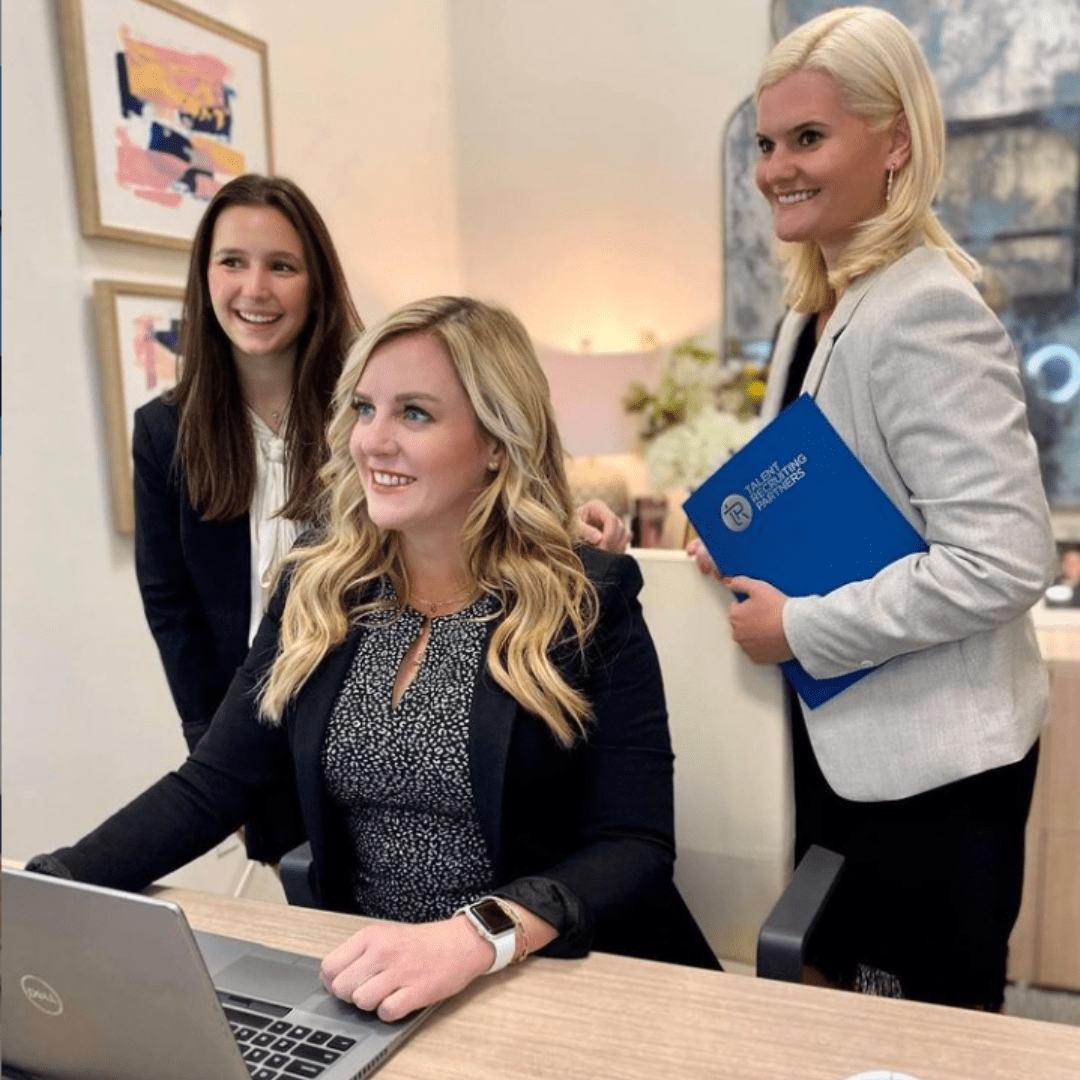 Talent Recruiting Partners (TRP) are a direct-hire, boutique, recruiting firm that have a passion for people and a priority to provide the best talent in the business.

Hinterview is the perfect platform for recruiters who are looking to innovate. Our suite of video recruitment tools is for recruiters who want to take their services to the next level. In the first months of using Hinterview, TRP has fully leaned into onboarding the new technology and applying it to their recruitment strategy.
Hear first-hand from the TRP team how they use video in their recruiting process, the impact they're seeing, how they found the onboarding process, what it's like to partner with Hinterview and what they predict to happen within recruitment in the future.
How a direct-hire recruiting firm uses video
They started their journey with Hinterview in May of 2021 and have been using it daily ever since! They were drawn to Hinterview's video recruitment tools because of how they could help them reach their goal of being the best in the business. And using innovative technology was a vital way to do that!

TRP are an ambitious team led by Emily Anastasia. Emily has 15 years of experience in staffing and started TRP amid the pandemic. She wanted a way to take their recruiting service to the next level and to truly provide expert recruiting for their clients. Their clients and candidates are at the heart of what they do. Emily says, 'what sets us apart from the rest is that we're expert 'matchmakers' and are always looking to innovate.'

Talent Recruiting Partners are a direct-hire recruiting firm headquartered in Birmingham, Alabama. At TRP, they are passionate about bringing top talent to the best employers. They are deeply invested in their partners and are passionate about people. Their team has established a track record of dynamic, lasting connections that help both clients and candidates grow and succeed. Emily shares that, 'the platform [Hinterview] has really helped us to showcase ourselves in the market.'

For their clients: Their team of talent specialists go way beyond recruiting and placement. They serve their clients as consultants, trusted advisors and brand representatives in the marketplace. The TRP team is committed to understanding the companies they work with.
For their candidates: They look beyond the resume to learn more about who they are and where they want their career to go. TRP looks for candidates that bring a broad range of skills, ongoing commitment to growth and genuine enthusiasm to their job.
Using video in their recruitment process
Through COVID, their team started using video more often. Like most recruiting teams using generic video tools, they found that they didn't have a singular place to store all their videos. Hinterview was the perfect tech solution for TRP. Hinterview solves that issue and made their lives even easier by integrating with Bullhorn and being a cloud-based platform with zero downloads.

The key tool that they use the most is, none other than our founding-feature Hinterview! Hinterview is a world-class candidate presentation and interviewing tool. This feature brings candidates to life through video presentations and offers a faster selection process for hiring managers.

Emily shares that, 'Hinterview is truly a game-changer in the market. We're super excited to be one of the first to have it in the Unites States.' They like Hinterview for the user-friendly UX, which we're constantly working on for upgrades and refreshments. In fact, we empower our Hinterviewers to connect with our product team directly in a dedicated customer feedback tool so their requests are always top of mind.
Emily says, 'the nice thing about Hinterview is that it's super easy and user friendly. You do a great job of training and support – you're like an extension to our team.'
What recruiters have to say about Hinterview
The team at TRP specialise in working across multiple sectors and disciplines including Accounting & Finance, Executive Management and more. We spoke with members of their team to get insight on what they like about Hinterview, the tools that they use in their day to day and the results they're seeing now. Watch the video below to hear her story or read on to get the highlights.
Brooke Payne, the Senior Talent Specialist, shared what it was like her first two months using Hinterview. Specifically how she has seen her, 'biggest month to date, ever!'



What was the Hinterview tool that had a huge part in that success? No surprise, it was our crowd favourite feature, Questions. She found that using this feature was, 'a great accent to the resume.' Our Hinterviewers use Questions to screen efficiently and showcase the best candidate from your shortlist to an existing client. Everyone involved in the hiring process is able to get a real sense of the person behind the CV, cultural fit and communication skills, even before presenting to clients.
Describe the impact you're seeing with

Hinterview
Next, we spoke with Caroline Meacham, Talent Recruiting Specialist, who shares her favourite tools and the feedback she gets from her clients. Watch the video below to hear her story or read on to get the highlights.
She has found that 'the Hinterview team has been so fun to work with. Everyone is so nice and willing and able to help us with any questions or issues or training that we want. We feel like the team has been really accessible and really helpful to us in learning this new software.'
When it comes to her clients, who receive hundreds of resumes every week, the supplementary videos from Hinterview are a huge hit! 'They believe it's a great approach to get to know the prospect before bringing them in for a formal interview,' she adds. 'In addition to our write-up and candidate submission, it's a terrific first impression.' Along with Brooke, the Question feature is a team favourite with also Michelle and Caroline. This feature enables a more flexible and engaging experience for candidates and hiring managers.
Michelle has received great feedback from her clients! She says, that it 'adds more to the resume!' Especially when it's used by a candidate who needs some help boosting their profile. She has been able to secure interviews for her candidates who may not have been offered based only on their resumes.
Onboarding, training and support
Laurel is a Junior Talent Specialist at TRP. She shared that she really enjoyed the onboarding and training that Hinterview provides. 'I feel that everyone at Hinterview has been so helpful and if we have any questions, they are always there for us.' Watch the video below to hear her story or read on to get the highlights.



When it comes to adapting her process, she found that she liked the organisation of the platform. 'You don't have to go searching for anything. I think that it's going to bring a lot of success to me and our team.'

Her favourite tool Hinterview tool would be Questions! 'I really feel that with the answers that you receive back from them you can definitely tell their personalities and that they're interested in that position. I also love that you receive emails from Hinterview when your client is looking at the videos. I think that it's a very great tool.'
Partnering with Hinterview
Hinterview is purpose-built for recruiters. Being former recruiters ourselves, we understand the industry and your workloads, so each feature has been built with you in mind. Our platform has the flexibility to be introduced at any stage of a business' growth. We work with thousands of recruiters. We help them to maximise the use of video in their recruitment process while enhancing their services no matter the size of the business.

Emily found that there have been so many things about it that have made it a good partnership for TRP. She shares, 'Hinterview has allowed us to showcase talent better.' They did their research and trialled multiple platforms but stuck with Hinterview. 'Honestly, we shopped around and looked at different software and tools – you're constantly innovating and also integrate with Bullhorn.'
They don't just use the platform as a recruitment tool, but for business development as well. 'It's an interview tool but also a sales tool – for us to prospect our own clients.'
If was someone was considering video recruitment software
When recommending Hinterview to another company, Emily adds, 'If there is another organization out there trying to build their business or searching for something creative, Hinterview does a terrific job'. TRP highlighted that because a lot of Team Hinterview are former recruiters, they have 'professional people available who can genuinely relate'. It makes it simple to equip teams with a variety of new ways to communicate with clients.
Where is TRP heading?
Emily shared that they are having an amazing year in 2021 and just had their biggest month ever. 'This has coincided with our partnership with Hinterview over the last three months and I know it will continue.' Since working with Hinterview they have seen back-to-back record months with the highest number of placements and revenue to date.

We look forward to seeing how Talent Recruiting Partners continues to evolve and know that they will have a bright future ahead. They're in the midst of preparing for major growth! Hinterview are proud to be a part of that journey.
Try Hinterview for yourself
Want to learn more about the success this direct hire firm has seen and how you can be next! Our team is ready to show you the platform that sets Talent Recruiting Partners apart. Book a free demo now