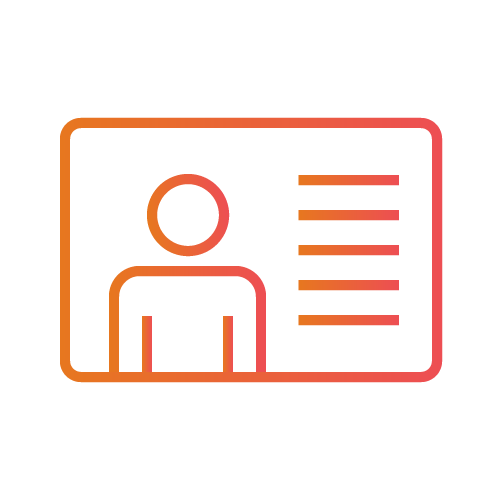 Hintro
Introduce yourself to candidates and clients with a personalised video message.
Develop stronger client relationships with personal, engaging touchpoints.
Quickly and easily create and share sales and marketing videos to promote your brand, or latest vacancy, across multiple platforms, including LinkedIn.
Easily trim, add subtitles, bookmarks, thumbnails and documents (like a CV) without any specialist video editing skills.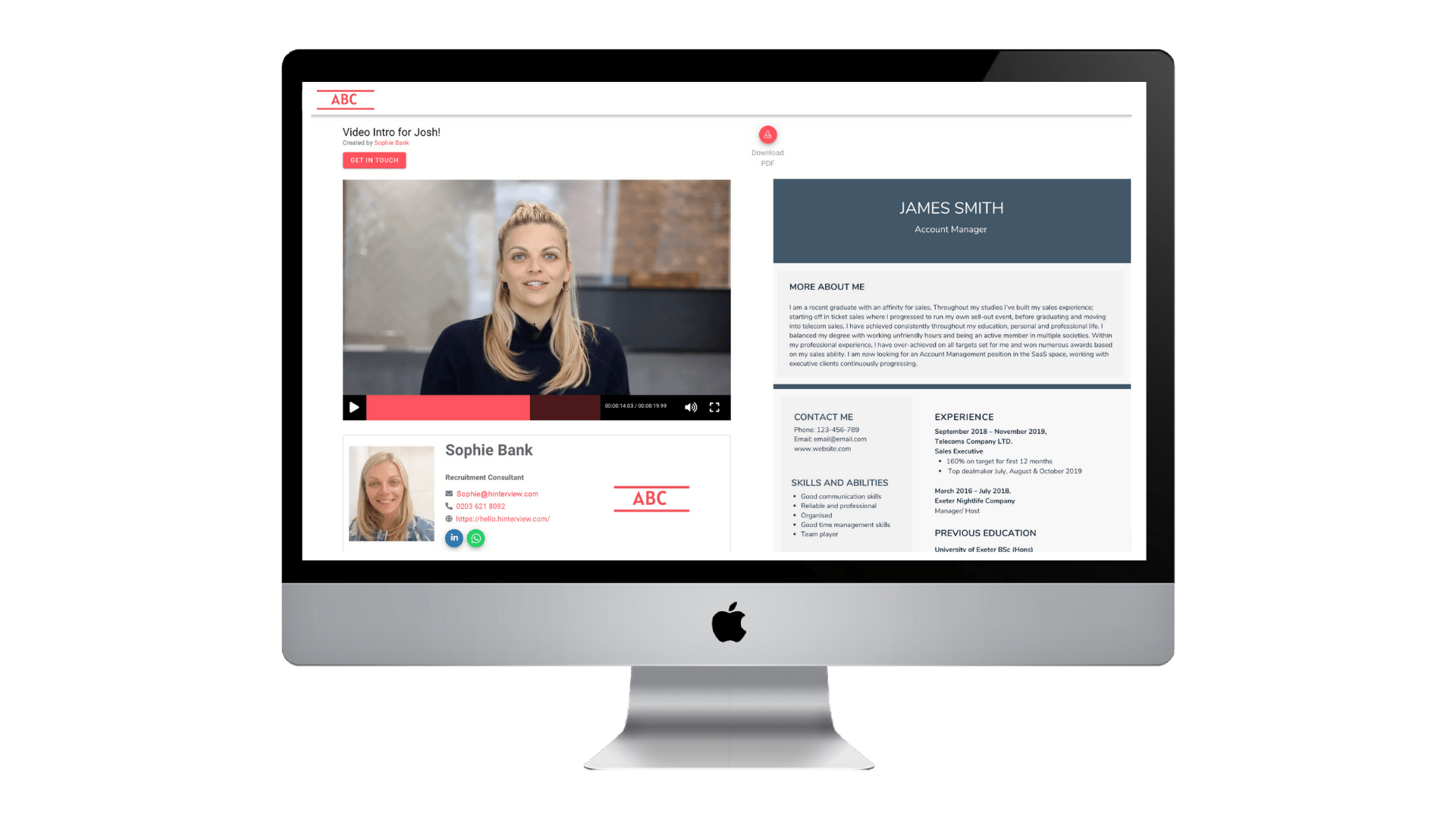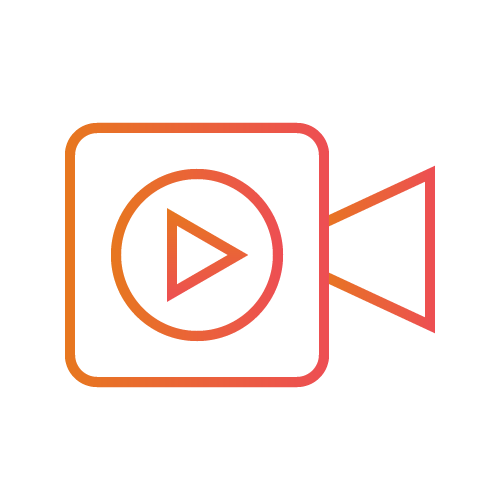 Hinterview
Hinterview ® is our two-way video interviewing tool, fully optimised for recruitment.
Interview candidates in one click, with no need for downloads or logins.
Present candidates to clients.
Conduct and record first stage interviews on behalf of your client.
Streamline the recruitment process, enabling quicker feedback and better selection for your clients.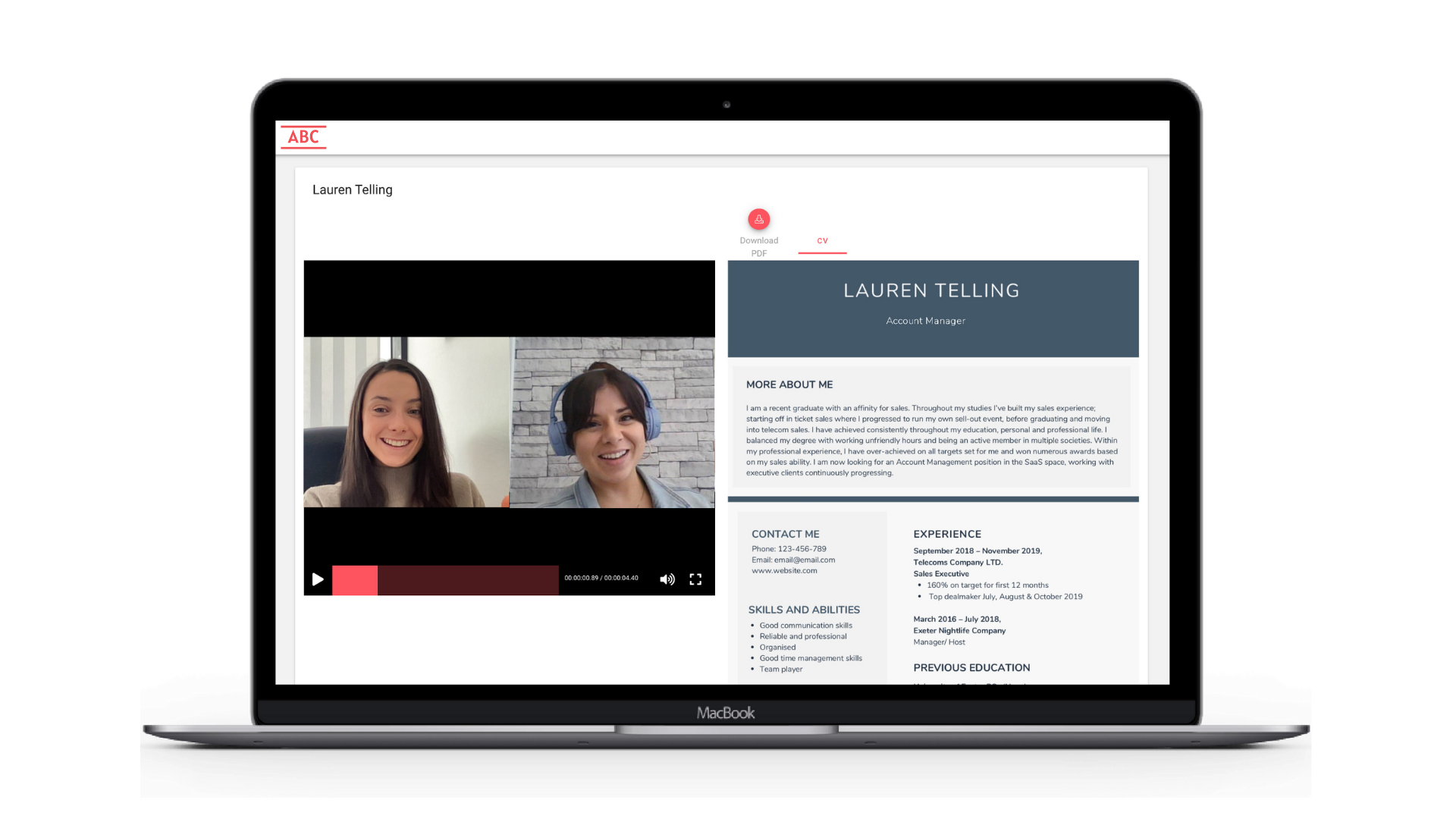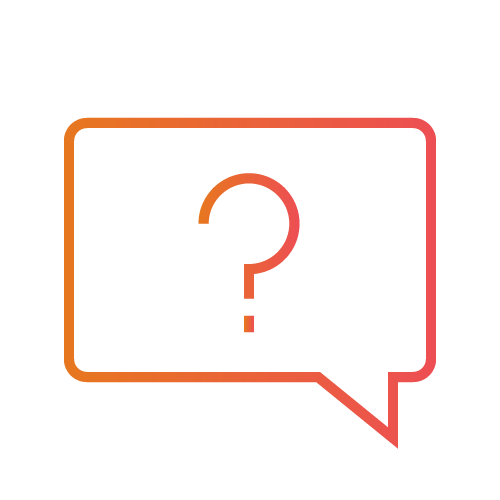 Questions
Questions allows candidates to record video answers to pre-set questions in their own time.
Present candidates' answers to clients prior to interview, or during the interview process.
Send stand-out candidate videos to clients to win new business.
Showcase the best candidate from your shortlist to an existing client.
Get a real sense of the person behind the CV, cultural fit and communication skills.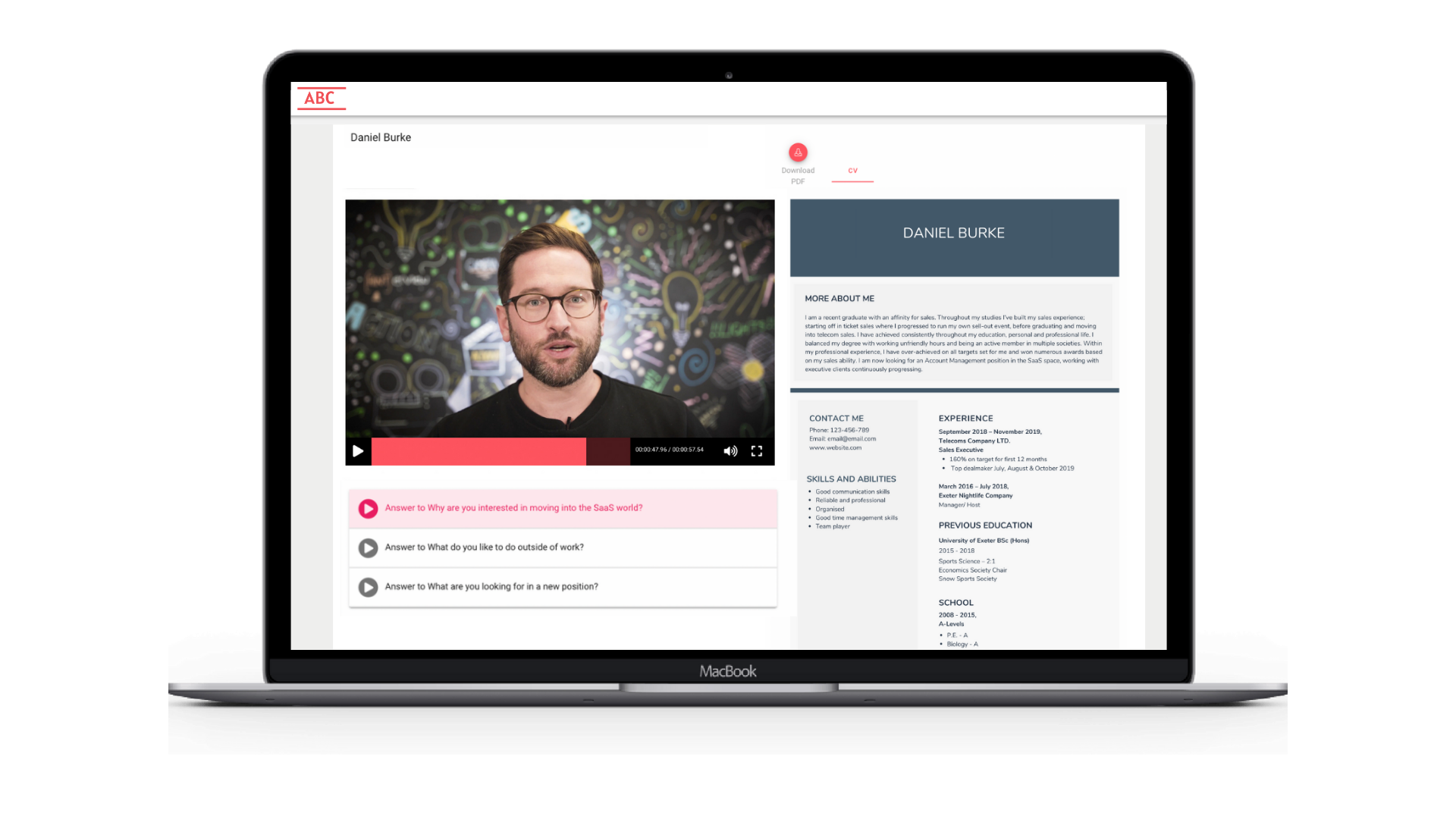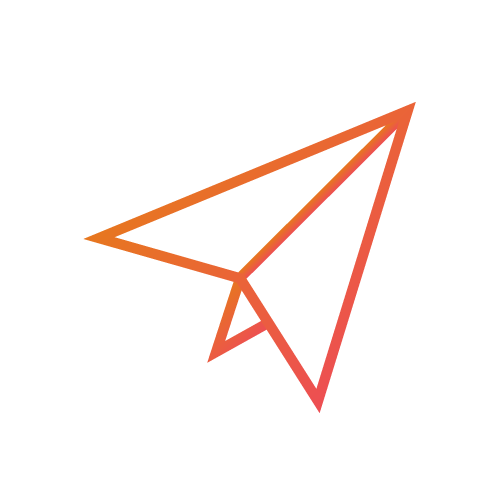 Email Campaigns
Campaigns is your own marketing communication and analysis machine for simple, effective outreach.
Share one and two-way video content efficiently with groups of clients and candidates.
Get instant notifications when someone reads your message, clicks on a video thumbnail, or watches a video.
View a dashboard of live open and click-through rates and see who's engaging in real time.
Keep candidates and clients engaged throughout the process with quick, intelligent follow-up.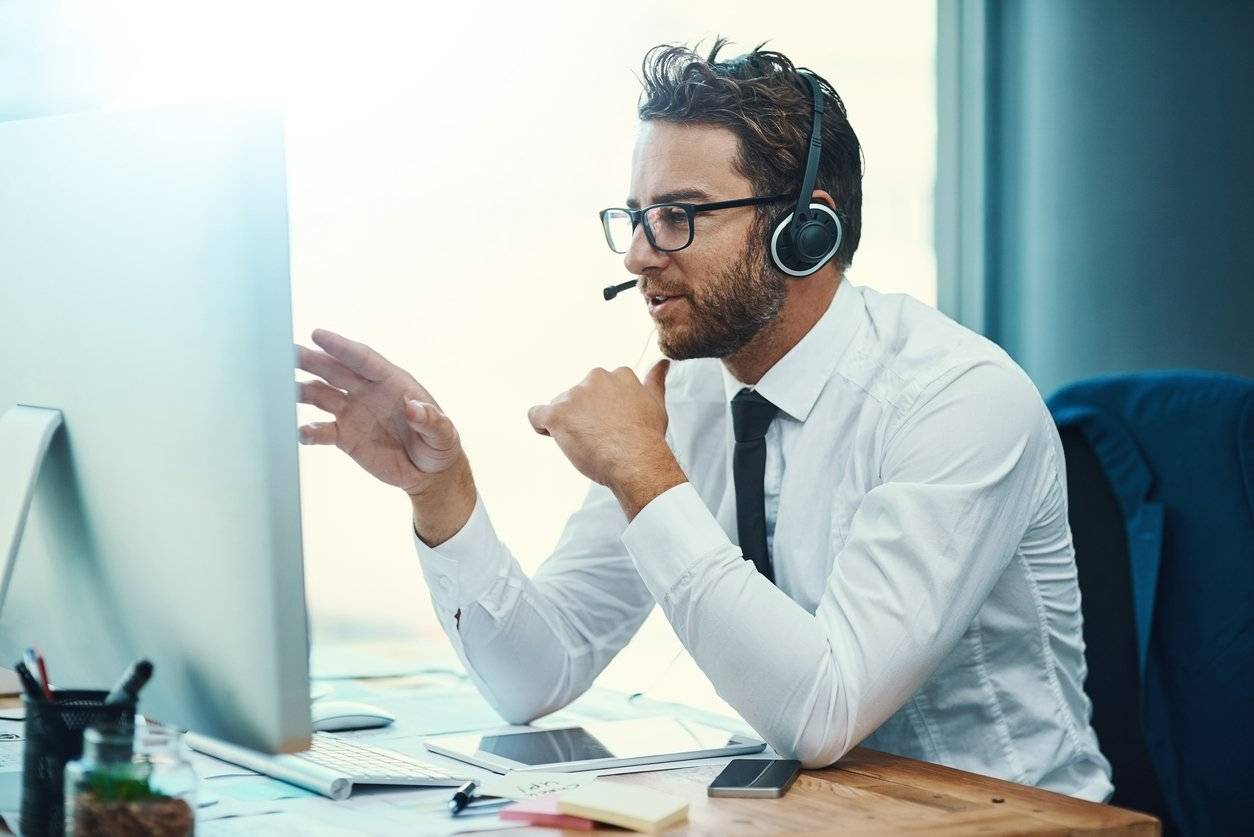 Analytics
Easily monitor video engagement and assess ROI with your own Analytics Dashboard.
Get instant notifications when someone reads your message, clicks on a video thumbnail or watches a video.
Keep candidates engaged and reduce drop-out.
Work more efficiently by prioritizing engaged clients and candidates.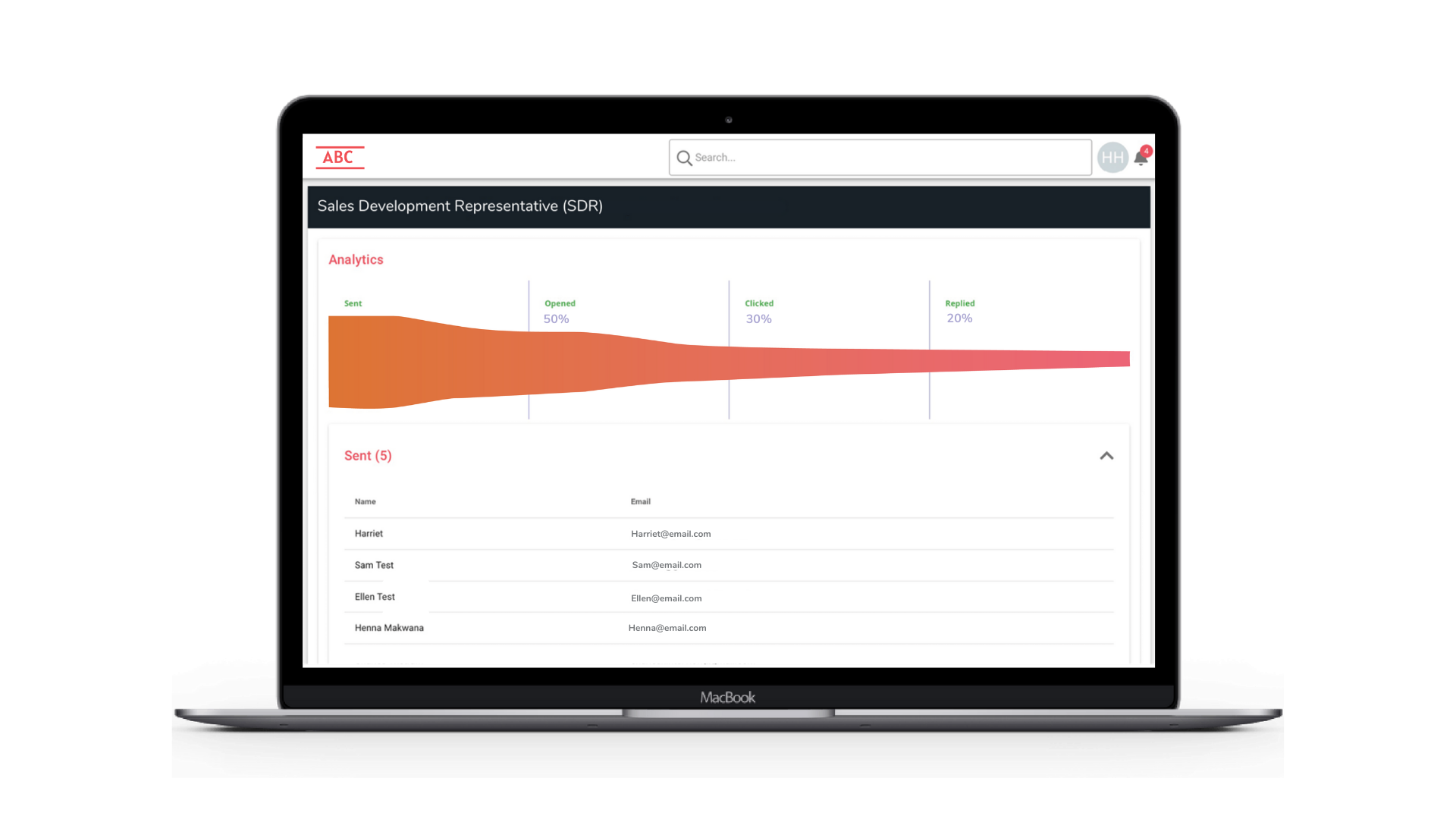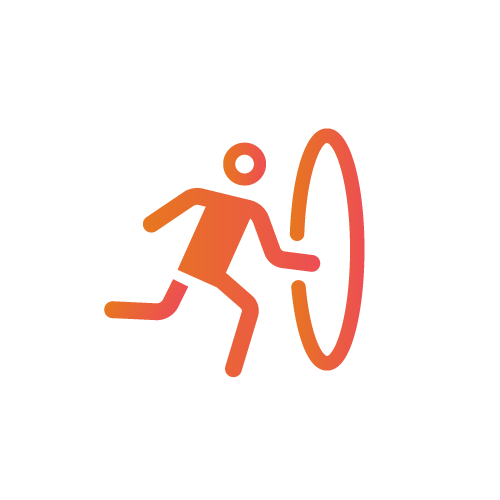 Portal
The Portal is a cloud-based management tool which allows clients to conduct interviews, review candidates and comment on candidate shortlists all in one place.
Interviews can be with individuals or groups, using the Panel feature.
The Portal enables efficient management, centralising recruitment processes.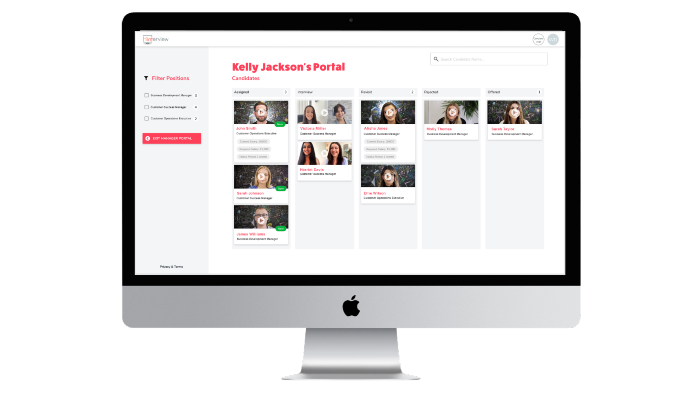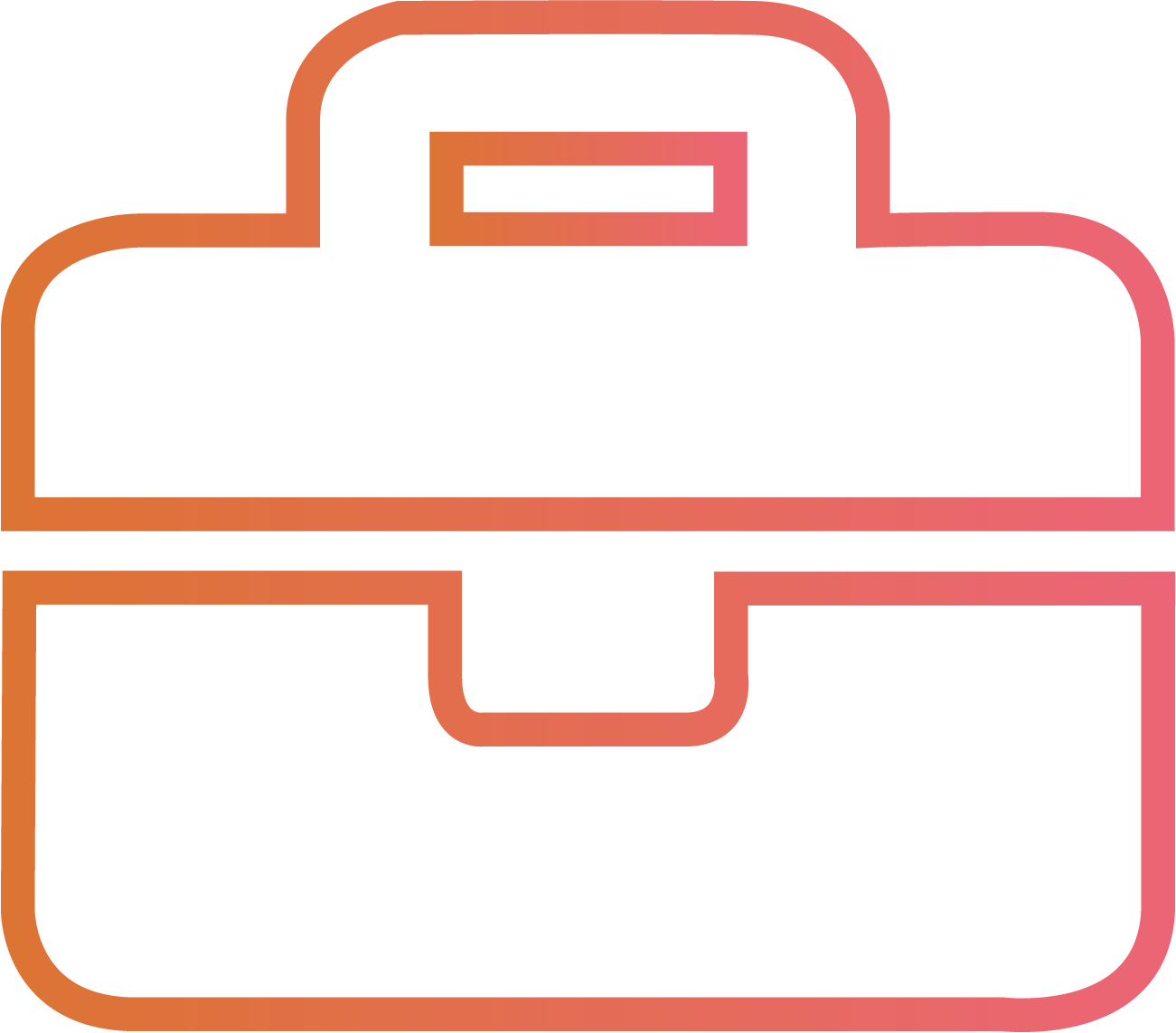 Hire
Use Hire to create digital job specs with integrated video, take candidates through an automated application workflow and get intelligent analytics.
Engage more candidates with digital job specs

Offer a stand-out experience with an automated application workflow

Use intelligent analytics to boost response rates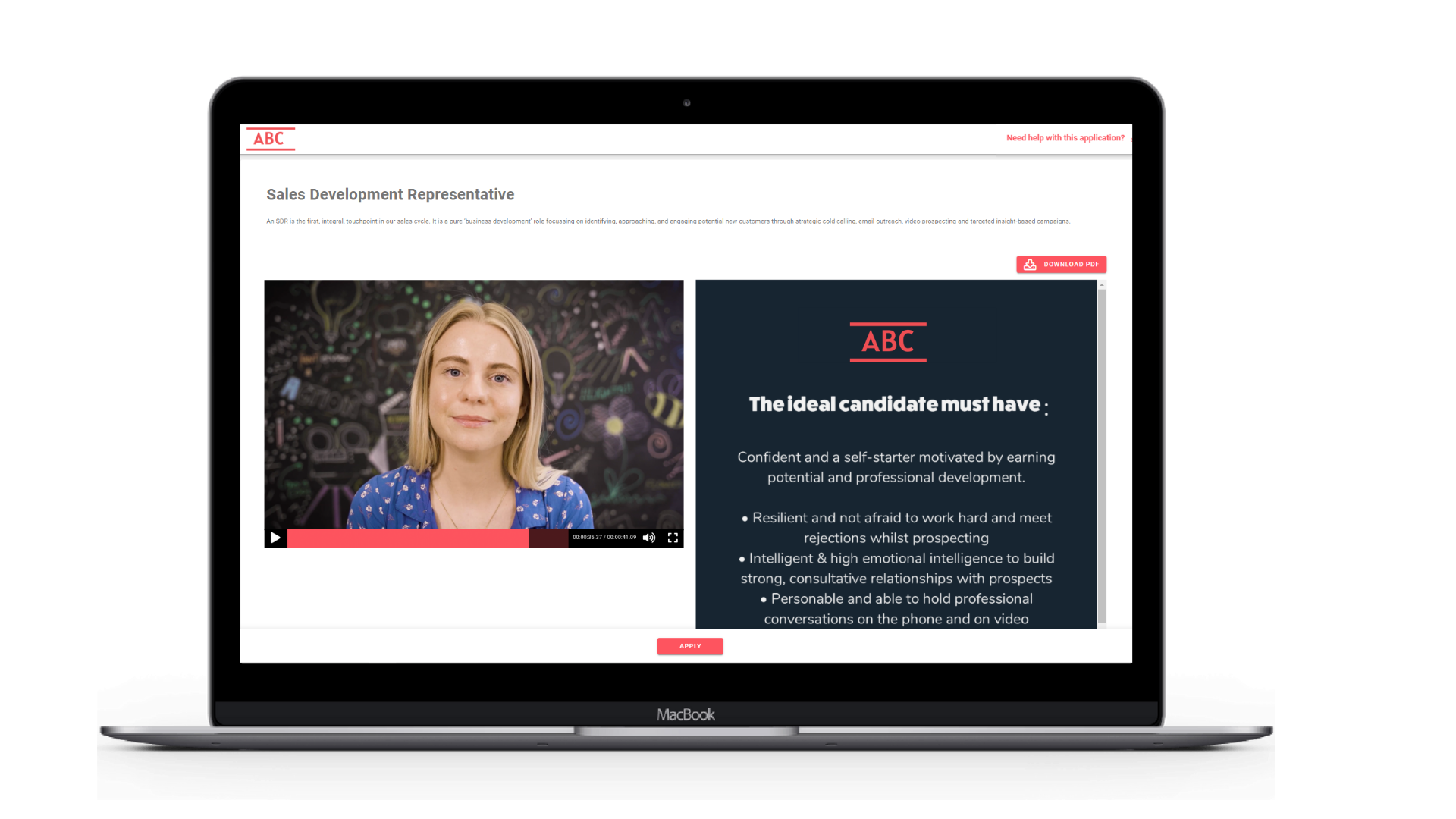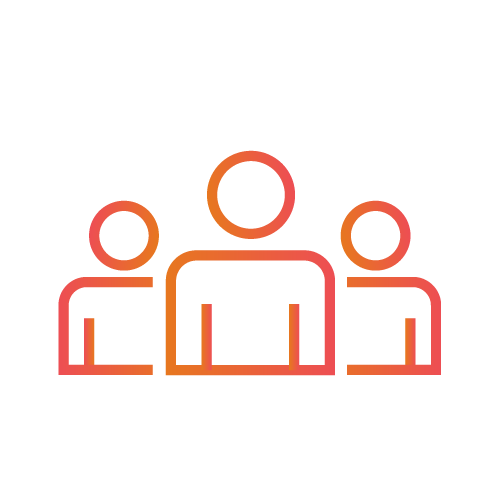 Training and Support
At Hinterview, we're a team of recruitment experts so we understand the daily demands of your job. Our aim is to make the training as effective and efficient as possible so you can hit the ground running.

Your dedicated Customer Success Manager will support the development of your video strategy. We'll also train your entire team to make sure they generate the best return.

We'll guide you every step of the way, providing ongoing technical and marketing support throughout. Our average response time for queries is under 30 seconds.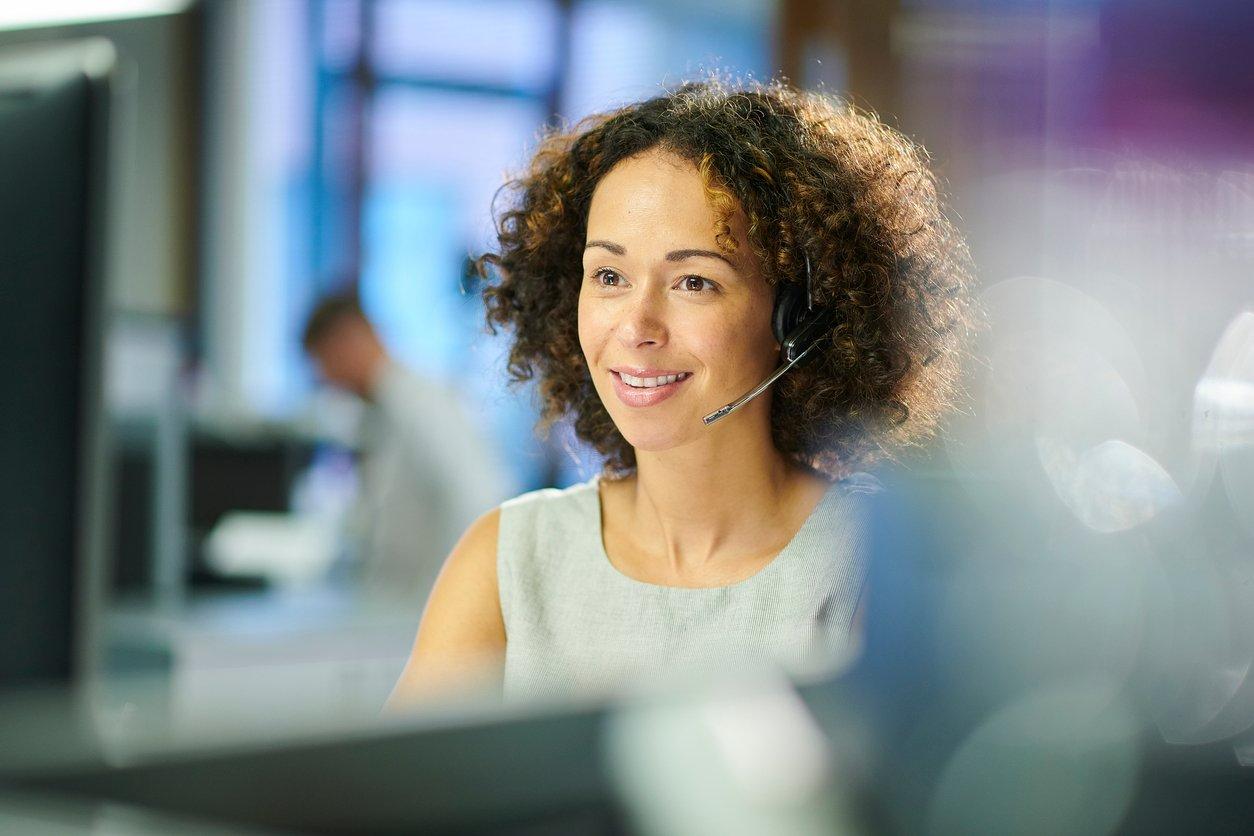 GDPR
We've done the hard GDPR-work, so you don't have to.
Our dual-consent technology means that you can't physically engage in activity on the platform without accepting T&Cs for GDPR compliance.
Parameters on when videos expire are set by you and your clients, so you're always in control.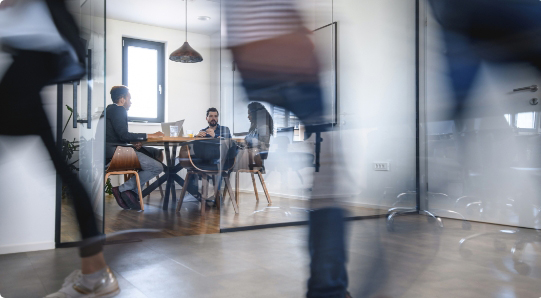 Win more with video

"We met a number of video platform providers, and we felt Hinterview stood out from all the competition."
Robin Beattie, Director, Mortimer Spinks

"Clients want more and video enables us to bring candidates to life!"
Andy Heyes, Managing Director, Harvey Nash

"Video is the future of the industry. Using Hinterview, we're showing our clients and candidates that we can adapt to new technologies."
Nick Kirk, Managing Director, Page Group
Recommended for you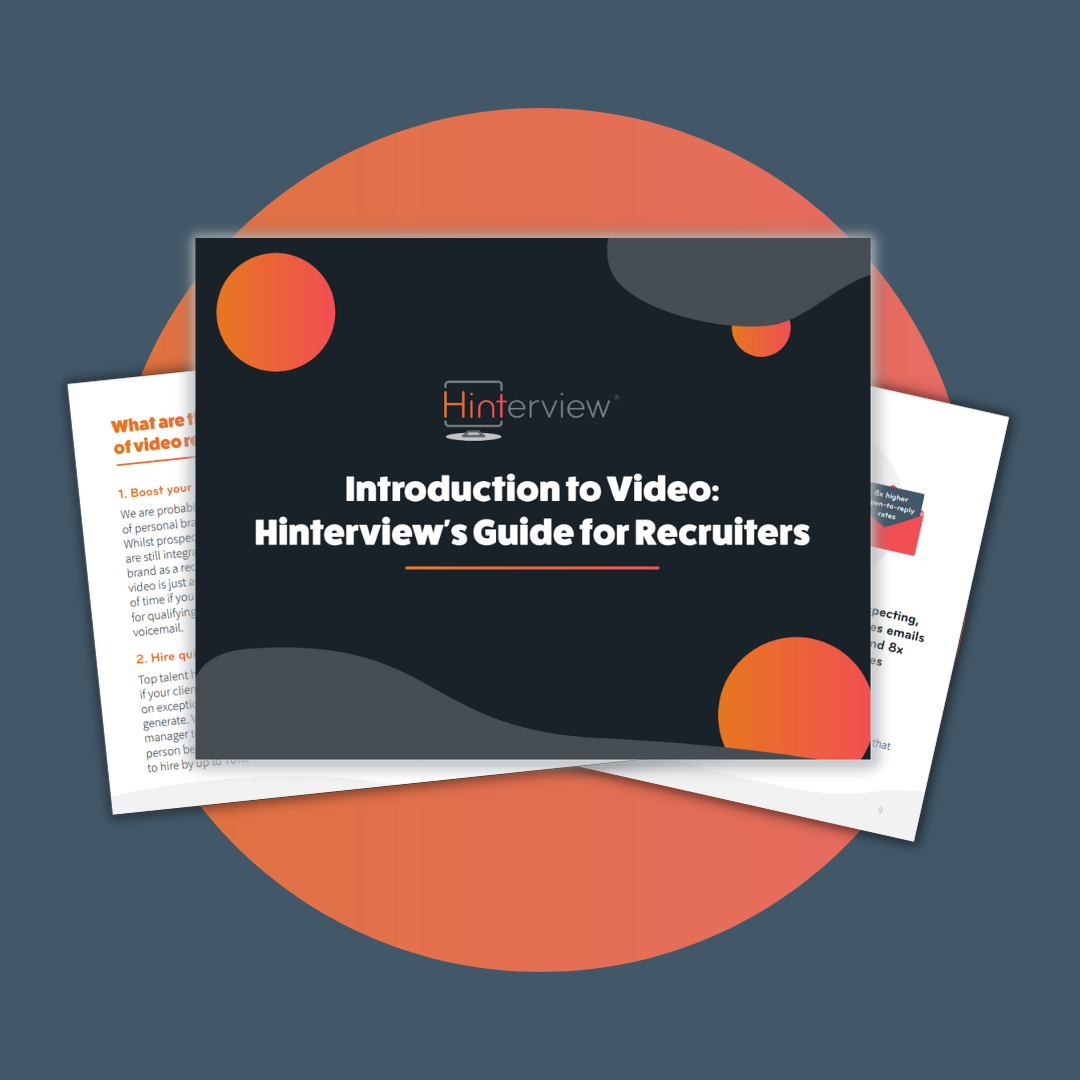 Using video as part of the recruitment process isn't just about interviewing. Video enhances...
read more
2/08/2022