3 Tips For Using Our Feature: Goals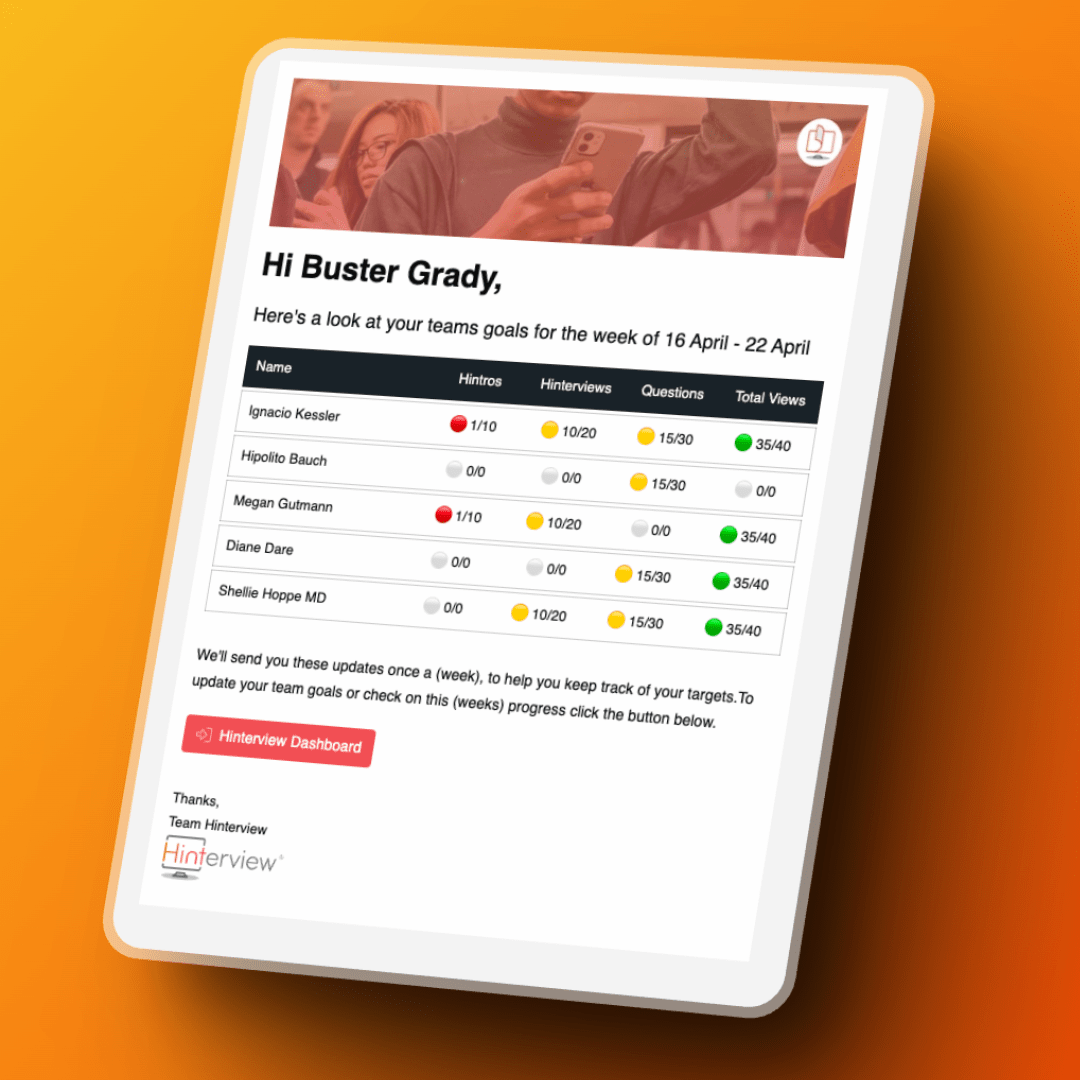 Hinterview is revolutionising the way recruiters streamline their processes so you can work faster and smarter to beat the competition. Our feature Goals was designed to help you supercharge your Hinterview usage and enhance your video recruitment processes like never before. Goals brings a gamifying element to your daily Hinterviewing and adds a healthy dash of competitiveness.
As a platform built by recruiters, we understand how important technology is to your business and the difficulties that come with adoption. We want you to get the most out of your Hinterview platform whilst giving you the opportunity to set targets and track performance!
We asked our customer success team, who have extensive recruitment experience, to share their tips on using our Goals feature.
Tip 1: Start with attainable goals
Set your Goals in line with what is most important to your business. Whether that's new business won or a reduction in time to hire, there are ways Hinteriew can directly affect your success and make a big impact.
For example, if you want to remove more interview steps? Increase the target on Hinterviews. If you're dealing with a high volume of candidates, then you'll want to boost up your Questions targets. If your team wants to book more new business meetings, then you'll be aiming to increase your Hintros.
Your team will know the overall key metrics and what success looks like. You'll have a transparent view of how you're tackling these business goals by using Hinterview.
Tip 2:

Drive & incentivise
Keep your team on track by establishing incentives against your Goals. '53% of employees feel that recognition or celebrations strongly represent their company's culture.' (Quantum Workplace)
Awards and recognition will help your recruiters feel that they're part of a strong organised culture with a dynamic strategy. Some inspiration that will get you results:
Higher commissions for deals from BD that were done from within the platform

Early finishes for hitting weekly numbers on Goals

Rewards for hitting personal bests
Lean into what your team responds to now and listen to what drives them forward. Be super clear on expectations and update daily so that Goals stay top of mind. You will get on-demand updates on your Hinterview homepage. Plus, you and your team will get a weekly email on performance against the last week.
Tip 3: Keep up the comms
Even if the participation is hot in the beginning, it's very natural for the excitement for targets to wane. Managers, you can push through this!
Whether you haven't seen immediate wins or hitting the Goals didn't result in the business you expected – here are some key actions to take.
Ask the team for feedback, 'What are the blockers?'

Analyse the targets and find where they should be refreshed

Be clear on expectations and follow up consistently with the team

Add Hinterview into your current workflows. For example: if they haven't booked an interview, recommend that they send a Hinterview. If they haven't heard back from a candidate, suggest that they send a Hintro.
The more leadership talk about it and open the discussion/feedback loop the easier it is for you to keep your Goals up to date. By receiving this feedback you will help your Hinterview Customer Success Manager guide the strategy as well.
Get started today
If you're new to Hinterview and want to learn more about how Goals keeps your business targets on track and ensures adoption, then we suggest requesting a demo by filling out the form below.
After you fill out this short form, a member of our team will reach out to you to schedule a time that best suits you. We'll give you insight into how the relevant video tools can work for your team. Hinterview enhances every stage in the recruitment process and will take your recruiting services to a competitive level. Book a demo today!